Ten books to read after Diary of a Wimpy Kid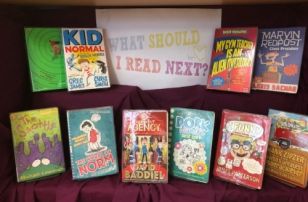 Have you read all the Diary of a Wimpy Kid books or are you ready for a new author?
Well, if the answer is yes, here are some suggestions for you.
All these books can be found in the school library and can be requested
via the Library Page on MySchool
Little Badman and the invasion of Killer Aunties by Humza Arshad and Henry White
The Parent Agency by David Baddiel
Hank Zipzer the World's Greatest Underachiever Barfing in the Back Seat (part of a series)
by Henry Winkler and Lin Oliver
The Snottle by Michael Lawrence
The World of Norm May Contain Nuts (part of a series) series by Jonathan Meres
My Gym Teacher is an Alien Overlord by David Solomons
Marvin Redpost Class President (part of a series) by louis Sachar
Dork Diaries Dear Dork (part of a series) by Rachel Renee Russell
I funny, a Middle School Story by James Patterson
Kid Normal (part of a series) by Greg James
Welcome to Our Library...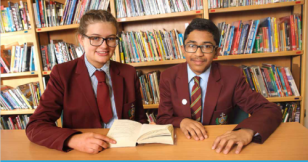 The library is located centrally on the ground floor and is a big, bright and busy room, easily accessible for pupils and staff. The library is a welcoming and comfortable place in which to read, do reseach, use the laptops, study or catch up with friends before and after school.
School Librarian
The library is managed by a full-time professional librarian: Mrs J. McArdle
Access
The library is open before and after school and at breaktime. Students are welcome to use this time to change books, do homework, use the laptops and printing facilities or chat quietly with friends.
KS3 students have a designated library period once a week, with focus on reading for pleasure.
When suitable senior students may use the library for research and silent study.
The library aims to
Provide and maintain a range of resources which support learning and literacy
Promote reading for pleasure and encourage a postive attitude towards books and reading
To create a stimulating, supportive and welcoming environment, which is conducive to independent research, individual reading and group work.
To create and foster independent and confident library users and information handlers
To support and promte the use of ICT as a research tool
To support staff in the delivery of the curriculum
Virtual Library
Virtual Library - now you can visit the library anytime and from anywhere!
Have you had a look at your personal virtual library page?
You can check what books you have out, check the library catalogue, request books, and leave reviews of your favourite books.
You can keep up to date with library news, see which books are popular and get suggestions on what to read next based on your personal reading history.
See Virtual Library Tour in Library News on how to get onto your personal page.
Book Clubs
Mrs McArdle holds weekly lunch time Book Clubs for year 8 and year 9 students.
The Book Clubs are very popular with readers and places book up very quickly! Students interested in joining should have an interest in books, enjoy biscuits and be ready for some fun.
Books to read after Harry Potter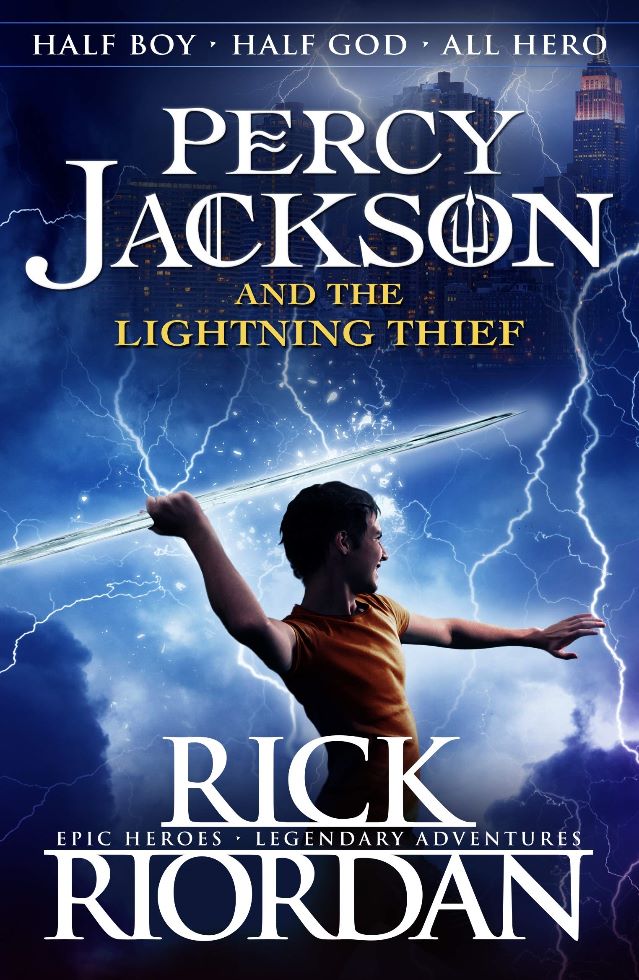 One of the most popular Library events of the year, Harry Potter Night has been moved from Thursday 4th of February to Thursday 24th June but fans of Harry Potter can still get involved with some fun activities on the official Harry Potter Night website.
If you've read all the Harry Potter books and feel you're ready to try something new here are a few suggestions. The books are all available as eBooks or Audiobooks from Libraries NI.
Northern Lights by Philip Pullman
Ebook available
Inkheart by Cornella Funke
Ebook available
The Bad Beginning by Lemony Snicket
Ebook available
Percy Jackson and the Lightning Thief
Ebook available
Skulduggery Pleasant by Derek Landy
Audiobook available
City of Bones by Cassandra Clare
Ebook available
The Hunger Games by Suzanne Collins
Ebook and Audiobook available
Miss Peregrine's Home for Peculiar Children by Ransom Riggs
Ebook available and Audiobook available
Eragon by Christopher Paolini
Ebook and Audiobook available
Divergent by Veronica Roth
Audiobook available
Fun events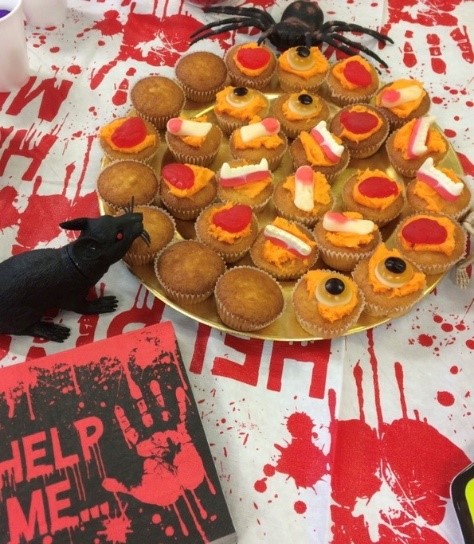 Throughout the year Mrs McArdle holds special reading events for Book Club members such as …
Roald Dahl Day
Harry Potter Night
Halloween, Christmas and Easter parties
World Book Day
World Poetry Day
Author visits
Northern Ireland Book Awards
World Book Day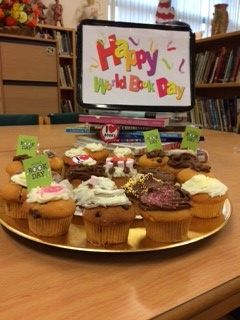 World Book Day is always a Big Booky Event in the library.
Mrs McArdle and invited guests start the day with a Big Booky Breakfast, where students get to show and tell about the free World Book Day book they have received with their WBD Tokens.
World Book Day always ends with book readings, competitions, fun and games and a party for year 8 & 9 Book Club members.
BookBuzz
Bookbuzz is a reading programme from BookTrust, that we regularly take part in. BookBuzz aims to help schools inspire a love of reading in 11-13 year-olds, with a wide variety of titles from non-fiction for curious minds, to fast paced page-turners.
"All of the books chosen are designed to appeal to all students, regardless of their level of reading. The list embraces all sorts of genres - such as thrillers, magic and fantasy - and contains picture books and graphic stories, as well as novels. As a result, the programme is a great opportunity to inspire a love of reading" Bookbuzz web page
Scholastic Book Fair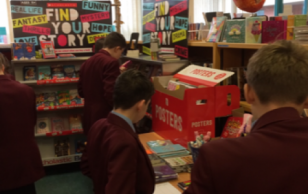 As part of our World Book Day celebrations the Scholastic Book Fair visits school for a whole week. Students are welcome to browse and buy during their library classes.
Northern Ireland Book Award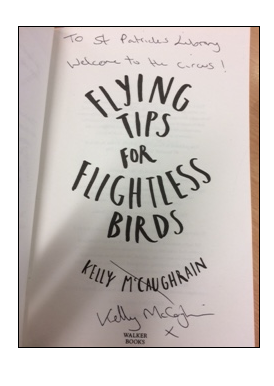 A selection of KS3 readers often take part in the Northern Ireland Book Awards.
The NIBAs is entirely voted for by children who read the shortlist and choose their winner.
We were delighted when 2018/19 shortlisted, Belfast author Kelly McCaughrain, visited our school to talk to the students about being a writer, how the circus has influenced her work and her popular book Flying Tips for Flightless Birds.
We caught up again with Kelly at the Awards ceremony in Belfast, where she talked about her very successful year as a published author and saw her being announced the NIBA winner!!
Book Reviews!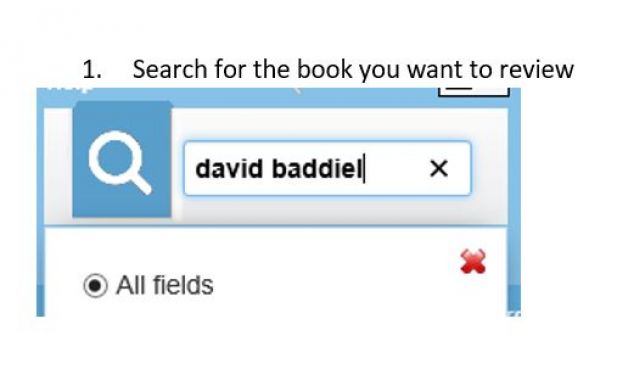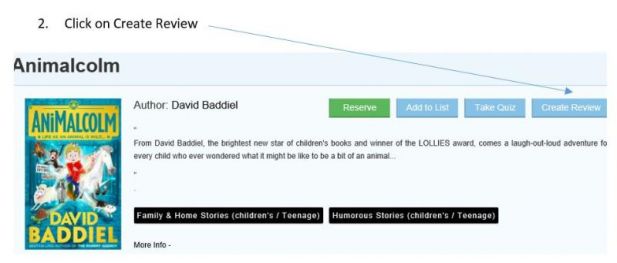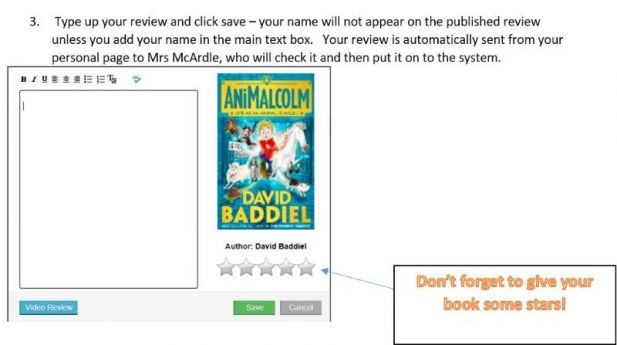 Virtual Library