IQM
St. Patrick's High School Becomes An IQM Flagship School in 2022/23
The Inclusion Quality Mark process provides a framework for schools to help promote inclusive practice in all facets of practice. We are delighted to announce that following a rigorous assessment process, St. Patrick's have been awarded the prestigious IQM () Flagship award for inclusion. We have been a Centre of Excellence for a number of years and this award recognises that we as a community continue to put inclusion for all our pupils at the heart of our practice. The report, issued in December 2022 found that;
"As a Catholic School in partnership with parents and the community, St. Patrick's High School, Keady seeks to provide students of all abilities with a secure, caring, stimulating and happy environment where high values of work, personal integrity and learning can be achieved and where all students are encouraged to develop their talents and character and to contribute positively to home, school, church and society."
It went on to state;
"Inclusion is at the top of the agenda at St. Patrick's. Leaders have carefully planned the curriculum in terms of what the pupils need to learn and how best to meet the needs of each child in the cohort."
This is not the end of the journey for our school and we will continue to seek ways to ensure that the principles of inclusive education on which we were founded continue to be at the forefront of our planning and practice.
The full text of the report can be found by clicking the link below and more information on the IQM Award can be accessed on Twitter @iqmaward or on the IQM website www.iqmaward.com
Inclusion Quality Mark Report
Investor in Careers Award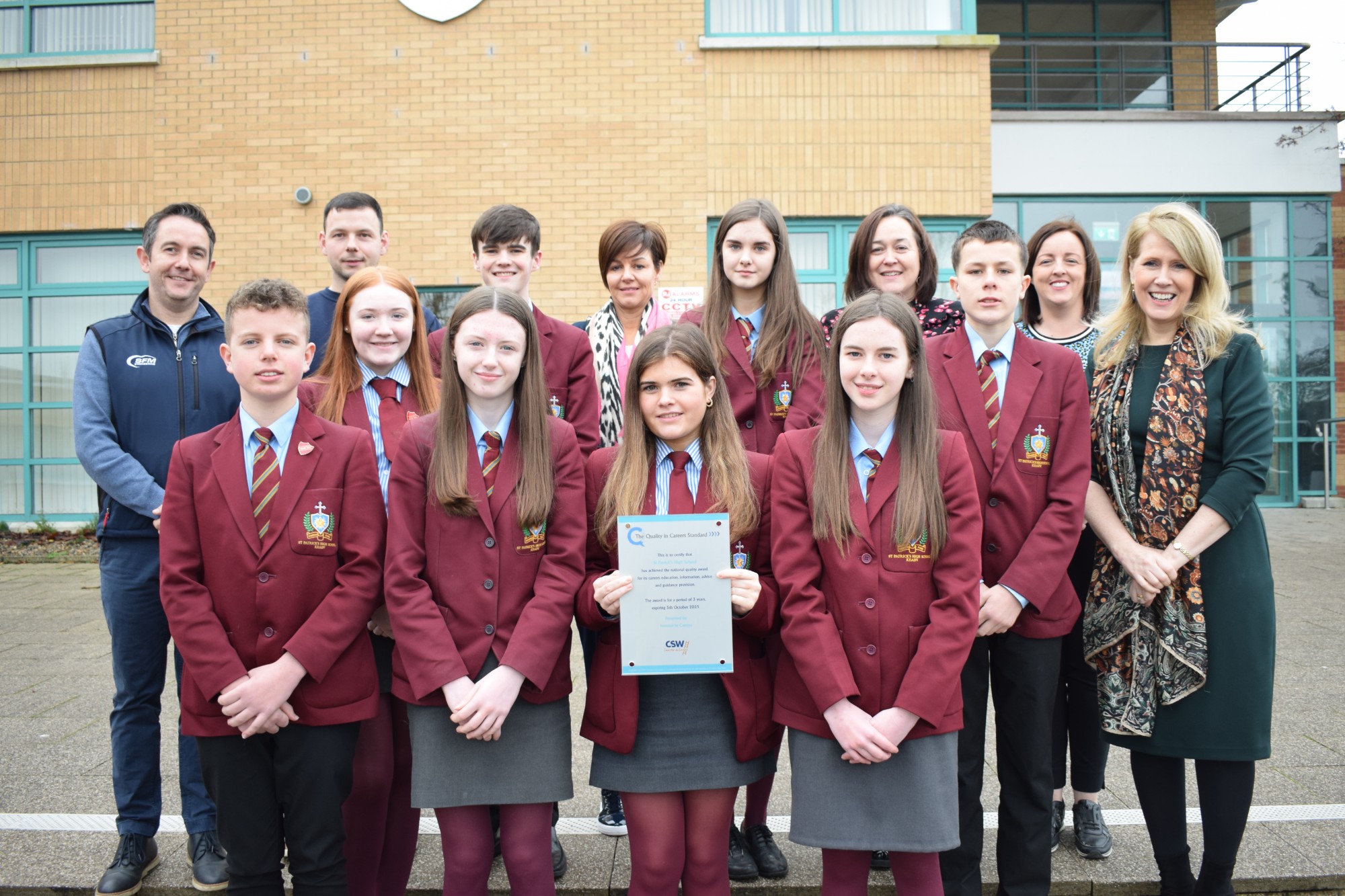 Celebrating the achievement of the IIC Award are: School Principal Dr Moore, Head of Careers Mrs Margaret Traynor, SFM Engineering representatives Mr Breen and Mr Renaghan and pupils from across Key Stages 3, 4 and 5.
This Quality in Careers Standard Award is a recognition of quality in Careers Education, Information, Advice and Guidance (CEIAG). It is awarded to schools who have demonstrated a commitment to provide impartial, independent careers guidance to young people, to improve students' awareness of opportunities, to raise their aspirations and to work with them to ensure they achieve their full potential.
The assessor stated that "there is a clear strategic vision, commitment and effective management of the careers programme within St. Patrick's."